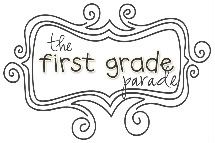 This morning when I got on the computer to do my usual "blog stalking" I found that Cara Carroll is having a link party!
I decided I wanted to be apart of the greatness!! So here goes.....
My name is Elisabeth. I am 25 years old and from Tennessee! I would like to say I'm a southern belle! :) I've definitely got a southern Tennessee twang accent! haha You might even say it was thick like molasses! This is my third year of teaching and I have taught first grade all three years. I couldn't imagine myself teaching any other grade. These first grade kiddos are right up my alley!!
I have a wonderful boyfriend named Eric and we have a baby dog son named Dexter. See my little family below! Aren't my boys cute??? I like to tell people that Dexter is just like his mama! Curly locks, spunky, and loves to love! :)
Dexter was "Super Dog" for Halloween. Superman has got nothing on Dexter dog!!
Below is us Summer 2010 in Puerto Vallarta. We love to travel! :)
I am currently working on my masters in Instructional Leadership. Boy oh boy.. has it been time consuming! I sure will be proud to get my pay raise!
Now for the Q & A
Q: What would you be doing if you weren't a teacher?
A: Well..... I think I might be scrappin' and when I say that I don't mean scrap booking! I mean scrappin'!! My best gal pal owns a recycling business. I worked there before I got my job as a first grade teacher. I loved it!! It was so exciting. And it was no telling what I would see from day to day. I really love making things pretty... even though I don't have a creative bone in my body. I think in a different life I would be an interior designer or some sort of a coordinator.
Q: What are your hobbies?
A: Gosh...... I don't know. I feel like as much time as I spend on the computer looking for ideas to use in my classroom that teaching is somewhat of a hobby. I love to travel, taking pictures, shopping for a good deal, and does watching soap operas count???
Q: When you were little, what did you want to be when you grew up?
A: I think always said a doctor or a teacher... I don't quite have what it takes to be a doctor... oh and I always said actress when I was little playing MASH. Did anyone else ever play this in elementary school?
Q: What are your guilty pleasures?
A: The Young and the Restless, Jersey Shore, The Real Housewives of New Jersey, Atlanta, and Beverly Hills (LOVE that drama!) CHEESE (if you cut me open I swear I think I would bleed cheese!) blogs, sweet tea, anything sweet (cake, cookies, you name it!)
Q: What is your biggest fear?!
A: Drowning because I can't swim :(.... snakes, mice
Q: When you're on vacation, where do you like to go?
A: Anywhere tropical!! I love a good tan, warm weather, and flip flops!!!
Q: What's the best advice you've ever received?
A: Be happy and don't worry!
Q: What do you value most in others?
A: Kindness
Q: If you could choose one of your personality traits to pass down to your kids, what would it be?
A: Definitely my sense of humor! I keep something going at my house constantly. I think I'm funny even if anyone else doesn't! haha
Q: If you could have lunch with anyone in the world….living or dead…who would it be?
A: wow... gosh I don't know. Will Ferrell maybe? haha I think he is hilarious! I LOVE Stepbrothers and Talledega Nights. Both are classics!
Now tell us one random thing about yourself:
I am addicted to soaps... soap operas!!!! You name it I watch it! It is even so bad that I often google "spoilers!" weird, right?? like I should totally go out and get myself a life! who googles spoilers for soap operas!??? This ole girl right here?? Eric asks all the time why do you watch this garbage. Why? Well as a young child my baby sitter always watched them and I think that's what got me addicted. But the real reason is they are ALWAYS new!!!! Every day... a new one... well except on holidays and weekends. I even have the soap net! True story..... But thankfully this new blog addiction has kicked somewhat of my soap habit. I still watch them... but google spoilers alot less.


If you want to join in on this fun go on over RIGHT NOW to Cara's wonderful site!!